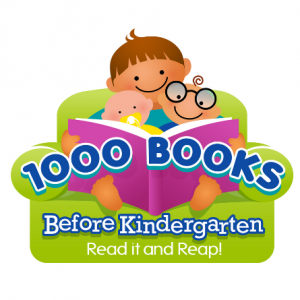 This free program encourages families to spend quality time together and promote pre-literacy and learning by reading 1000 books before your child starts Kindergarten. Any child ages birth to five years entering kindergarten can participate in this self-paced early literacy program.
Register your child today!
"*" indicates required fields
After you've registered, come to any branch to pick up your first reading log and a special gift for joining the program! Bring your reading log back at predetermined milestones to get small prizes.
Reading logs are also printable from home (see below), OR you can check out the 1000 Books Before Kindergarten iPhone App at http://1000booksbeforekindergarten.org/ It's free!
Note: during the COVID-19 phased re-opening, our hours may change with little notice. Check our Hours & Locations page for updates. We'll get you your free book for signing up whenever you are able to make it into the library.
*NEW* Download and Print Your Reading Logs from Home!
Information Guide for Parents **Prize available upon signing up for the program!**
401-500 Reading Log **Prize available after completing 500 books!**
901-1000 Reading Log **Prize available after completing 1000 books!**
About the Program
Goals
We want to help every child become a reader by encouraging you to read 1000 books to your child before he/she enters kindergarten.
Program Overview
The concept is simple, the rewards are priceless! Read a book (any book) to your newborn, infant, and/or toddler. Any book read (even repeats) by anybody counts.
Learning to read starts way before Kindergarten. Print and sound awareness, print recognition and vocabulary all come from listening to their parents talk and read to them.
Reading together is fun and will create life-long memories for both of you. What a great way to bond with your precious child curled up with you while you read together!
Although 1000 books sounds like a huge number, consider this:
If you read just one book a day, you will have read 365 books in a year and you could finish in less than three years.
Read 10 books per week? Less than two years.
Three books a day? Less than a year!
Thanks to our sponsors for supporting Early Literacy in Red Deer!
Ruth and Dorothy 

Bower

Red Deer Early Years Coalition
100 Women Who Care (Red Deer)
Browns Socialhouse
Famoso Neapolitan Pizzeria
Freshii
Friends of the Red Deer Public Library
NOVA Chemicals
Pediatric Consultants Association
TD Red Deer
Frequently Asked Questions
What ages can participate in this program?
Any child from birth until he/she enters kindergarten.
How long with this program take to finish?
That is entirely up to you. This program is self-paced and will depend on how often your child is read to.
1000 books will take a long time. Can it really be done?
1000 books sounds like a lot. But when you break it down, if you were to read 10 book each week for two years, you would have read 1,040 books!
My child likes to listen to the same book over and over.  Do I only count it once?
No. It would count each time you read it. Some children are like that. They have a favorite and love to hear it. Even though you may tire of it, they don't and hearing it over and over will help with their memory. If the child is a talker, have them tell you the story as you look at the pictures together.
My child will not sit for an entire book, can I still count it?
Yes. The goal is to make reading fun. Young children have varying attention spans and not all books will interest your child. It is fine to just talk about the pictures or move on to another one before you finish. If your child likes to turn pages before you finish reading the page, that is ok also. Share the books in whichever way works for both of you. Reading together in the early years is about connection, print awareness, sound awareness, print recognition, vocabulary and fun.
My child likes to move. How can I get them to sit still and listen to the story?
This is totally normal. Some children like to move, play and explore. Reading aloud while they are moving about still builds their vocabulary and literacy as they are still listening. You could also try singing the story and that may engage them more in the story.
My child is already 4, can he/she still take part?
Yes. The program goals can be modified based on the age of the child when starting the program. For example: a four year old could read 300 books in the year before starting kindergarten.
Can I only count the story when I read to my child? Or can my husband read also?
Anyone can read to your child. Grandma/grandpa, older sibling, babysitter. Everyone counts. Even the librarian at storytime. The more people that read to your child will show your child that reading is fun for everyone.
Does digital content (TumbleBooks, audiobooks) count?
Absolutely! Sometimes it is fun for both you and your child to sit and listen to a story while you snuggle up together.