RDPL's New Graduate!
Red Deer Public Library members and staff joined in congratulating Katja on Monday, October 30, when the news broke that Katja had successfully completed the final assessment, earning her facility dog vest after two years of training in the owner-trained program through Aspen Service Dogs, an Alberta Government Qualified Service Dog Organization.
You are welcome to listen to the interview that Team Katja gave to CBC Radio Active with Jessica Ng about training Katja!, opens a new window
Many questions have arisen regarding what this achievement means for library members, now that Katja, the first library facility dog in Alberta, is ready to put her training to work in serving the Red Deer community. We are delighted to provide answers to these questions and assist you in determining which library dog program best aligns with your needs and expectations!
---
What are Facility Service Dogs?
But first, let's clarify the concept of Facility Service Dogs. According to Aspen Service Dogs, Facility Service Dogs are hard-working and adaptable canines suitable for various settings, including courthouses, child protection centers, and schools. These dogs, under the guidance of trained on-site handlers, undergo basic obedience training and are equipped with specific commands tailored to the needs of the respective organization.
In Red Deer, we already have facility service dogs in two other community organizations – the Central Alberta Child Advocacy Centre and the Red Deer Victim Services Unit. Quinn, a golden Labrador retriever, plays a crucial role as a member of the CACAC Team, providing invaluable support to thousands of children from their initial steps through the door, during forensic interviews, and even in court. Argo, another golden Labrador retriever, is the newest addition to the VSU team and is on track to complete his organization training in the next two months.
It's important to note that the roles of facility service dogs depend on the goals of the organizations and the ways in which they can enhance the organization's programs and services.
We consider ourselves fortunate to have introduced Katja to many library programs during her training. Now, as a full-fledged library staff member, we are excited to share the diverse library dog programs we offer to the Red Deer community.
---
Library Dog Programs Tailored to Different Needs and Ages
If you have a young reader (Grade 1-5) in your family who could benefit from  reading practice with a friendly and non-judgmental furry friend, our "Sit, Stay, Read with Katja", opens a new window program is an excellent way to boost their self-confidence and public speaking skills. This program is available in two formats, offering either a single 30-minute reading opportunity with Katja at the Dawe Branch or a 4-week session at the Timberlands Branch. A variety of reading materials is at hand, and Katja's handler is there to provide support if needed.
---
Katja loves visiting schools and meeting students at both Dawe and Timberlands branches, which serve as school libraries for St. Patrick Community and Barry Wilson schools. Teachers and daycare providers are welcome to request a visit from Katja for storytime or a presentation about service dogs.
---
For dog lovers who simply want to meet Katja and engage in playtime, we host large seasonal programs for all ages where Katja makes special appearances.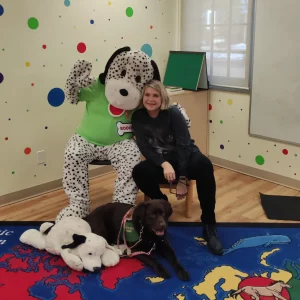 ---
Keep an eye out for our upcoming program in December: "Winter Family Fun with Katja, opens a new window" at the Dawe Branch, where various activities are available, and Katja typically has her station.
If you are a cancer patient, survivor, or a family member dealing with cancer, we offer the "Red Deer Cancer Connect", opens a new window program in partnership with Wellspring Alberta twice a month at the Dawe Branch. Katja provides friendly company and emotional support to program participants during these sessions.
---
Important Allergy Information
If you or your child have allergies to dogs and are concerned about encountering Katja at the library, we always post signs when she is on-site at one of the library branches. As Katja is most frequently seen at the Dawe and Timberlands branches, you can make informed decisions based on these notifications.
---
Perfect Presents for Dog Enthusiasts
Want your very own Katja to take home?! You can purchase a Katja stuffed toy and Katja's coloring book at any of the library's branches. It makes for a wonderful Christmas gift!