Did you miss Katja, our facility service dog in training?
Katja is in her second year of training in the owner trained facility service dog program with Aspen Service Dogs.
Katja has met many humans in the library, schools, and malls in the last few months who ask us: Why do we want to have a dog in the library? What is her job going to be? Are there any special skills that she needs to have to be a library facility service dog? Is it rare to have a dog in a library?
So we thought that we answer these questions in this blog post. If you have more questions, please, leave a comment!
Many libraries in the US and Canada have implemented programs where certified therapy dogs visit the library to listen to children read.
According to the American Library Association (ALA), as of 2019, there were over 1,000 registered therapy animal programs in libraries across the US. This includes programs that involve dogs, cats, and other animals. However, the ALA does not have specific data on the number of dogs that work in libraries but we know that over 60% of US colleges have a pet therapy program.
As we learned from a friendly Library Animals podcast, many libraries in North America have different creatures including, cats, chameleon, fire belly toads, teddy bear hamster and an African Cichlid fish among others that help librarians to make the library a fun and engaging place to come for kids and adults alike.
In Canada, the use of therapy dogs in libraries is also becoming increasingly popular. Many libraries in Canada now offer therapy dog programs, and some libraries have dedicated therapy dog teams that visit regularly. However, there is no comprehensive data available on the number of dogs that work in libraries in Canada.
RDPL had a few programs using volunteer therapy dogs in the past: Reading Tails  in partnership with St. John's Ambulance and Sit, Stay, Read with Isha, a semi-retired autism service dog.
We had therapy dogs and their handlers from Central Alberta Humane Society visit the library and provide a casual opportunity of interacting with the dogs for the library members as well.
It takes two years to train a facility service dog. After Katja nailed basic obedience and body conditioning in her first year of training,
Multiple dress practices for various library's occasions
enthusiastic participation in large library events
and visiting multiple schools in Red Deer
Katja started learning additional skills in her second year of training that will help her to be an engaging, patient and gentle reading and emotional companion for the library members in a number of library programs for all ages.
RDPL will be the first library in Alberta to have a dedicated facility service dog who will be helping kids be better readers, helping the high and middle school students to have less stress and relieve anxiety during exam weeks, helping kids and adults to know how to interact and bond with a dog.
But the question remains. 
Why read to a dog?
Reading to dogs can be beneficial for children in several ways.
Firstly, dogs are non-judgmental and provide a comforting presence that can help children feel more relaxed and confident when reading. This can be particularly helpful for children who struggle with reading or have anxiety around reading aloud. 
Camille Xinmei Rousseau & Christine Yvette Tardif-Williams (2019) Turning the Page for Spot: The Potential of Therapy Dogs to Support Reading Motivation Among Young Children, Anthrozoös, 32:5, 665-677, DOI: 10.1080/08927936.2019.1645511
This study investigated whether dogs might facilitate a context conducive to reading for children when they are faced with a challenging reading passage. A within-subjects design was used to assess children's motivation to read in two conditions: with a therapy dog and without a therapy dog. Seventeen children (8 girls; 9 boys) in Grades 1 to 3 (aged 6–8 years) and their parents participated in this study. Results of a multivariate repeated-measures ANOVA with two levels suggested that the presence of a therapy dog positively impacted children's reading motivation and persistence when they were faced with the task of reading a challenging passage. Specifically, children confirmed feeling significantly more interested and more competent when reading in the presence (versus absence) of a therapy dog. Additionally, participants spent significantly more time reading in the presence of the therapy dog than when they read without the therapy dog present. To the best of our knowledge, this study is the first to use a within-subjects design to explore children's reading motivation and reading persistence during a canine-assisted reading task.
We have seen it already through Sit, Stay, Read programs that we offered during the Reading week in February and during the Spring break.
Secondly, reading to dogs can improve children's reading skills. When reading to a dog, children practice their reading fluency and comprehension in a non-threatening environment. They may also be more willing to take risks and try new words when reading to a dog, which can help them build their vocabulary and become more confident readers.
We believe in evidence-based research and you can read more about it in the research articles below:
Jill Steel (2022) Children's wellbeing and reading engagement: the impact of reading to dogs in a Scottish Primary 1 classroom, Education 3-13, DOI: 10.1080/03004279.2022.2100442
Reading to Dogs in schools is an increasingly popular way of supporting both wellbeing and reading engagement yet limited educational research has been conducted. This small-scale study took place in a Scottish Primary 1 classroom with N = 21 participants aged 5–6 years. A 4-week intervention, adopting an inclusive approach for the whole class, was evaluated. A qualitative study design incorporated observations and semi-structured interviews. Results suggest improved wellbeing and engagement in reading for all, however the greatest improvements were found in the most vulnerable.
Fung SC. Effect of a Canine-Assisted Read Aloud Intervention on Reading Ability and Physiological Response: A Pilot Study. Animals (Basel). 2019 Jul 24;9(8):474. doi: 10.3390/ani9080474. PMID: 31344815; PMCID: PMC6720266.
These results provided preliminary evidence that the canine-assisted read-aloud program can increase the reading performance of children with lower performance.
Olivia Noble & Nicole Holt (2018) A study into the impact of the Reading Education Assistance Dogs scheme on reading engagement and motivation to read among Early Years Foundation-Stage children, Education 3-13, 46:3, 277-290, DOI: 10.1080/03004279.2016.1246587
This research explores the impact of the Reading Education Assistance Dogs (READ) scheme on reading engagement and motivation among Early Years Foundation-Stage children using a case study approach at a primary school in the English Midlands. This study used qualitative techniques to determine if the READ scheme is reported to have an impact; and if so, what type of impact. The findings suggest that the READ scheme is successful in a number of areas, including promoting engagement, increased motivation, improved attainment, fostering children's enjoyment and promoting a love of reading, alongside other additional benefits for specific target groups.
Syrnyk C, McArthur A, Zwack A, Handelsman A. Supporting Young Readers: A Mixed-Methods Study of Their Literacy, Behaviour, and Perceptions When Reading Aloud to Dogs or Adults. Early Child Educ J. 2022 Oct 21:1-15. doi: 10.1007/s10643-022-01392-5. Epub ahead of print. PMID: 36312220; PMCID: PMC9589535.
At the start of the study and after completion of either support learners' oral reading, reading comprehension, social functioning, and reading affect were assessed. Parents, teachers, and children were also asked a range of closed- and open-ended questions. Findings showed evidence of improvement in reading performance, particularly after reading to a dog. There was also evidence of improved social competence overall and decreased problematic behaviour, although this was dependent on order of exposure.
We plan to start offering a session-based 4-week Sit, Stay, Read with Katja program in July when a child can be registered to come to read to Katja every week at both, Dawe and Timberlands branches. 
Finally, reading to dogs can be a fun and enjoyable activity for both the child and the dog. It can foster a love of reading and animals, and provide an opportunity for children to practice empathy and compassion towards animals.
Rodriguez KE, Greer J, Yatcilla JK, Beck AM, O'Haire ME (2020) The effects of assistance dogs on psychosocial health and wellbeing: A systematic literature review. PLoS ONE 15(12): e0243302. https://doi.org/10.1371/journal.pone.0243302
Beyond the functional tasks that assistance dogs are trained for, there is growing literature describing their benefits on the psychosocial health and wellbeing of their handlers.
Positive outcomes included significant effects of having an assistance dog on psychological well being, emotional functioning, self-esteem, and vitality.
We saw that first hand when we had a Snuggle Puppy Storyfun program in February for preschool children and during Sit, Stay, Read and Play with Katja family program.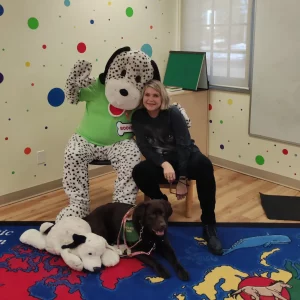 In June, as part of the Community Better Challenge we are offering Walk and Read with Katja program
All people who attend the program will be entered into a draw for the wonderful prize - a library bag full of fun books about dogs, Katja's colouring book and baby Katja stuffed toy.
Katja has her own Instagram account, opens a new window and you are welcome to follow her training journey there!
As much as we love all furry friends, please remember that only card-carrying Alberta licensed Service Dogs are permitted inside the library!